The Mad Jewess
Crybaby #Oprah, Open Your Pocket & Give ALL You Have To Your Poor People: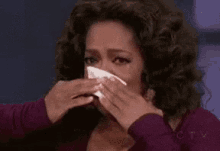 Oprah claims that even poor white people are 'privileged'.  Sure.
Isnt that amazing?  Little racist, Miss Thing has billions of dollars.  SHE can end the 'suffering' of her people (who are NOT suffering) today. This very day.   All she has to do is live up to her own standards and give it ALL to her people.  End the crying Oprah, stop your agony: Empty YOUR wallet. Give your homes away.  For gods sakes…this junk is never-ending with these 'oppressed' leftist minorities.  DONT think I leave Lefty Jews out of the mix.
This can ALL end TODAY!!! Give it ALL away!  Stop the 'suffering', Oprah. Stop complaining and whining.  
SHUT UP AND #JustDoIt!