International Liberty
One of the best political cartoons I've ever seen was this gem from Glenn McCoy.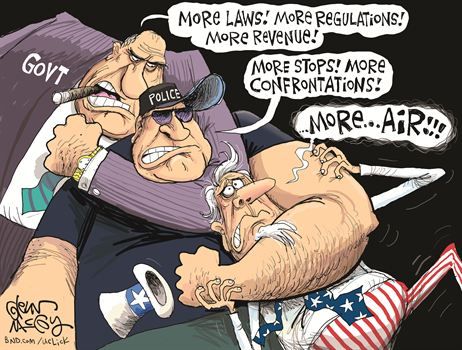 It very effectively captures how greedy local governments breed resentment and create conflict by using the law to fleece residents (and it definitely will be featured if I ever do another political cartoonist contest).
This is not a trivial topic. I've previously written about how fees, fines and charges can wreck the lives of the less fortunate.
So how do we solve this problem?
Alec Schierenbeck, in a column for the New York Times, argues we should impose much higher fines on rich people.
For people living on the economic margins, even minor offenses can impose crushing financial obligations, trapping them in a cycle of debt and incarceration for nonpayment. …Across America, one-size-fits-all fines are the norm… Other places have saner methods. Finland and Argentina, for example, have tailored fines to…
View original post 371 more words