boudica.us
Michael Hoffman – NATO is a Moral Cesspit
February 27, 2022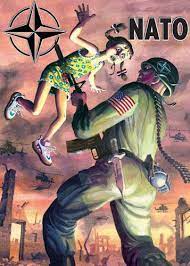 32 years ago this month the George H.W. Bush administration promised

the Russian government that if Russia surrendered East Germany,

NATO would not "expand one inch eastward." 
By Michael Hoffman
(henrymakow.com)
President Biden has declared that Vladimir Putin's invasion of Ukraine will bring about a "catastrophic loss of life."
That's what George W. Bush, Dick Cheney and Condoleeza Rice perpetrated in Iraq from 2003 onward. 
Mr. Cheney was enthusiastically applauded in Congress as recently as last January 6. 
Mr. Bush has been passionately embraced in public by former First Lady Michelle Obama. 
Condoleeza Rice is a well-paid "expert" commentator on Russia and Ukraine featured prominently in the US media that proudly employ her. 
Joe Biden fully supported the bloody war crime invasion of Iraq, a nation that had not harmed America. Mr. Biden and the US ruling class are…
View original post 445 more words